Sweet Biscuits
Breads
Cakes
Cheese
Chocolates
Chutneys
Crackers
Mrs B Products
Olive Oil
Hampers
Pates
Gift Vouchers
Jams & Marmalades
Cooking Sauces
St Clements Marmalade 227g
£2.99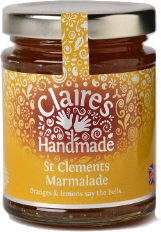 Oranges and Lemons …!
The perfect combination of sun-ripened Spanish oranges and lemons is brought together here in this brightly flavoured vibrant marmalade perfect on your breakfast toast. Add to your vinaigrette recipe to bring zesty freshness to your dressing.
Commended at the Dalemain World Marmalade Awards
in 2016 and 2017.
FURTHER INFORMATION
Gluten free. GM free.
Suitable for vegetarians and vegans.
INGREDIENTS
Allergens in CAPITALS. Sugar, bitter oranges 15%, lemons 15%, gelling agent: fruit pectin, acidity regulator: citric acid. Prepared with 30g fruit per 100g. Total sugar content 63g per 100g.