Sweet Biscuits
Breads
Cakes
Cheese
Chocolates
Chutneys
Crackers
Mrs B Products
Olive Oil
Hampers
Pates
Gift Vouchers
Jams & Marmalades
Cooking Sauces
Orange Marmalade Fine Cut 227g
£2.99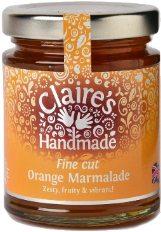 Zesty, fruity and vibrant
Deliciously fruity marmalade made with sun-ripened Spanish oranges, wonderful on hot buttered toast. Can be used as an ingredient in many dishes from casseroles to steamed sponge pudding. Marmalade ice-cream is heavenly.
FURTHER INFORMATION
Gluten free. GM free.
Suitable for vegetarians and vegans.
INGREDIENTS
Allergens in CAPITALS. Sugar, bitter oranges, gelling agent: fruit pectin, acidity regulator: citric acid. Prepared with 30g fruit per 100g. Total sugar content 63g per 100g.