Sweet Biscuits
Breads
Cakes
Cheese
Chocolates
Chutneys
Crackers
Mrs B Products
Olive Oil
Hampers
Pates
Gift Vouchers
Jams & Marmalades
Cooking Sauces
Lemon & Lime Marmalade 227g
£2.99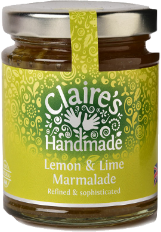 Refined and sophisticated.
A refined and sophisticated marmalade with a lovely tang reminiscent of breakfasts of times past. Fabulous on breakfast toast and pastries and makes a wonderful citrusy vinaigrette for a summer salad to serve with barbecued fish or meat.
Bronze award winner at the
Dalemain World Marmalade Awards 2016.
FURTHER INFORMATION
Gluten free. GM free.
Suitable for vegetarians and vegans.
INGREDIENTS
Allergens in CAPITALS. Sugar, lemons 15%, limes 15%, gelling agent: fruit pectin, acidity regulator: citric acid. Prepared with 30g fruit per 100g. Total sugar content 63g per 100g.