Sweet Biscuits
Breads
Cakes
Cheese
Chocolates
Chutneys
Crackers
Mrs B Products
Olive Oil
Hampers
Pates
Gift Vouchers
Jams & Marmalades
Cooking Sauces
Blackcurrant Extra Jam 227g
£2.99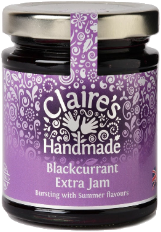 A welcome burst of summer flavour
Bring a burst of flavour to warm scones or still-warm freshly baked bread. The beautiful colour and incredible taste make this jam a great addition to your breakfast table on your toast or in your yoghurt. Try stirring a spoon into your roast duck pan sauces.
FURTHER INFORMATION
Gluten free. GM free.
Suitable for vegetarians and vegans.
INGREDIENTS
Allergens in CAPITALS. Sugar, blackcurrants, gelling agent: fruit pectin, acidity regulator: citric acid. Prepared with 45g fruit per 100g. Total sugar content 63g per 100g.