Sweet Biscuits
Breads
Cakes
Cheese
Chocolates
Chutneys
Crackers
Mrs B Products
Olive Oil
Hampers
Pates
Gift Vouchers
Jams & Marmalades
Cooking Sauces
Blackberry & Apple Jam 227g
£2.99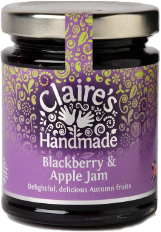 Delight in these delicious autumn fruits
The simple blend of gorgeous dark, sweet blackberries and sharp Bramley apples makes every morning a celebration of flavour. This jam is perfect for warming and spooning over pancakes or waffles.
Transforms a steamed sponge when added to the bottom of the bowl before cooking.
FURTHER INFORMATION
Gluten free. GM free.
Suitable for vegetarians and vegans.
INGREDIENTS
Allergens in CAPITALS. Sugar, Bramley apples 25%, blackberries 20%, gelling agent: fruit pectin, acidity regulator: citric acid. Prepared with 45g fruit per 100g. Total sugar content 63g per 100g.